Pretty much all of my favorite costuming bloggers have posted extensive recaps of their 2013 accomplishments and plans for 2014 projects. While they were all delicious to read and revel in the pictures and creativity, when I looked at what I'd accomplished in 2013, it felt pretty inadequate in comparison.
Which initially coloured my thoughts on doing Historical Sew Fortnightly 2014. I adore the concept of HSF. It is pretty much everything I aspire to as a historical costumer. I love seeing the creative ways that other costumers interpret the challenges and the gorgeous garments and accessories people create. But I'd been a failure with it in 2013...
1) I only discovered it once it was over half way through
2) I kept failing to find a creative way to work my current list of basic costuming needs into the challenges. I am building my costume closet from the ground up. I have a lot of "unsexy" projects to sew through to have the right foundations for all my impressive ideas
3)A challenge every 2 weeks combined with my sewing schedule meant less than 10 hours to complete anything.
So I thought maybe I would just lurk and enjoy HSF 2014 from the sidelines. But then I took a look at the full list of challenges for the year and realized that I had vague but immediate ideas for most of the odd numbered challenges. And it was permissible to do a "half marathon" and do odd or even numbered challenges.
So I am tossing my hat (pun intended) into the ring and hoping to complete the half marathon in 2014.
Of course, I made this decision with a scant 3 days before challenge #1 is due (why make it easy on myself? :) ), so this project is pretty modest. But I think it fits the spirit of "Make Do and Mend" nicely. I imagined myself as a shop girl using what she had on hand to spruce up an old hat to be a little more
au courant,
because she couldn't afford to buy a brand new one.
History of the Original Hat
Years ago, I bought a black straw hat in a resale shop and re-trimmed it with some scrap velvet, some vintage millinery feathers I'd had since college, an only slightly broken antique buckle and an a pair of hair sticks that I had on hand. I wore it with a pseudo Edwardian outfit for a live action Vampire the Masquerade game. It's spent the past 10 years or so hanging on my bedroom wall. It was definitely time for a(nother) refresh! Even so, I had a brief pang of regret as I disassembled the trimmings.
But proceed I did! Taking it apart left me with some better than I expected trimmings and a slightly droopy straw hat to work with. Ironically, the feathers look much less ravaged
off
the hat, so they will be going back into my millinery stash.
Looking at the bare hat, it seemed a bit small for the classic Edwardian look I'd first envisioned:
Originally from Ladies Home Journal March 1912, posted at www.fashiononehundredyearsago.com
However, I also found a similar hat in the Met Collection from 1890: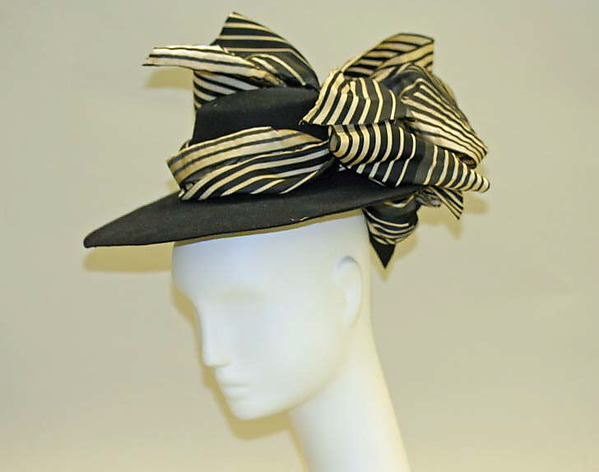 Hat c. 1890 H. O'Neill & Co. (American, New York) in the collection at www.metmuseum.org
I'm working on a 1890s walking skirt and shirtwaist and it would be nice to have a hat to complete the ensemble, so 1890s it was going to be! I was briefly stalled on what I had on hand that was crisp enough to hold a bow, but I remembered some left over silk duponi that had already been used for 2 projects. It wasn't striped (a pity) but it was on hand. My inner Victorian shop girl felt extra thrifty.. even though silk duponi isn't entirely period correct.
The plain bow was sort of cute just by itself, but my inner shop girl won out and I added a few more loops of silk and kept tacking and poufing until I was happy with the result. But it still needed...something... so I added back the buckle that had previously been on the hat.
The Challenge: #1 Make Do and Mend
Fabric: Silk duponi, straw hat base, some existing velvet trim on the hat
Pattern: Visually inspired by the hat from the met pictured above
Year: 1890
Notions: Thread
How Historically Accurate is it?
50%?
It's inspired by an extant hat, but materials are modern
Hours to complete: 3ish
First worn: Probably in February 2014
Total Cost: $0 I made do entirely with materials I had on hand :)