Ever since
HSM #3
I've been kind of obsessed with drawn thread embroidery. I wasn't satisfied with how the legs came out on my drawers, but I loved the technique. My first big project was half a dozen largesse napkins and while I was working on those at events and Barony meetings, people kept asking "What are you doing?" so I offered to teach a class on the most basic drawn work stitch: Hem stitch at Royal University Meridies in July.
I put together 6 kits with a practice piece with threads pre-drawn and edges folded up so that each student could start practicing right away and a napkin with pre-drawn threads to take home and finish. And just in case, I printed out 9 sets of my
class handout
. I'd planned on 3-4 students and lots of one on one time for each of them. Except that I had over 24 students! Thankfully, I had extra linen in my basket to make more practice pieces on the spot and my students were gracious about the lack of materials and instructor time. But I felt bad that I couldn't spend more time with each person.
So imagine my surprise when I find that one of my students enjoyed the class so much she
blogged about it
! I am over the moon to have passed on my love of drawn thread embroidery to someone else. :)
Once I felt like I had a grasp on basic drawn work, I started thinking about a partlet with drawn work. My plan was to have it done and wear it for my class as an example, but alas, life intervened.
16th century Italian portraiture shows a lot of elaborately decorated partlets (called colletto in Italy), some of which looked like it could be drawn work.
Attributed to Lavinia Fontana
Portrait of a Woman with a child,
traditionally identified as Eleanora d'Medici
Detail of Giovanna of Austria and her son, Phillipo
Galleria degli Uffizi, Florence, Italy
Better still, I had 2 extant examples of hemstitching on neck and wrist ruffles. Neither example was specifically Italian, though.
The Sture shirt, discussed in Arnold's PoF 4
currently located at Uppsala Cathedral, Uppsala, Sweden
Jay had finished his second blackwork project, which was a collar for me and I decided to use it for a colletto with drawn work down the front and on the neck ruffle. While I couldn't specifically document blackwork and drawn work together on the same colletto, Landini states "In the third decade of the 16th century, nets and partlets became the article of clothing which, along with the head-dressing and the sleeves, most lent itself to imaginative invention and personal choice
"
1
so
I was comfortable with my plan being within the realm of "imaginative invention" in the 16th century.
I had already made a simple colletto based off this example and since my focus in this was the drawnwork, I used the same pattern, but made it several inches longer, since the first one always felt too short when I wore it.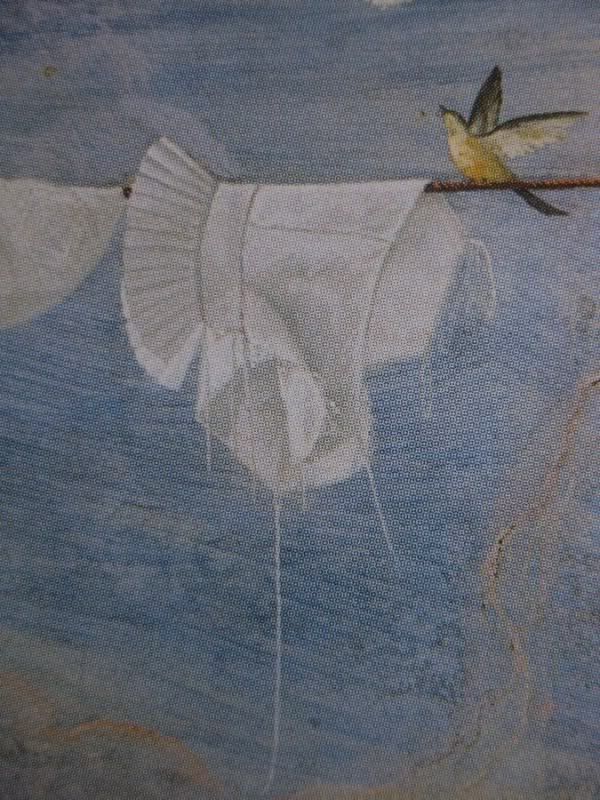 Alessandro Allori c. 1589
Tapestry Apartments, Pitti Palace
It was all handsewn with linen thread, using flat felled seams and a 1/4" hem around all edges. I used Gutermann silk topstitch thread to fingerloop braid the ties at the neck. The actual technique for the drawn work is discussed
here
. The bottom has a drawstring casing through which I threaded handwoven linen tape from a friend's etsy shop,
Tied to History
.
I'm actually rather pleased with how it turned out.
The Challenge: #7 Monochrome
Material: 3/4 yard Fabric-store.com 020 linen
Year: second half of the 16th century, Italian
Notions: linen thread, silk topstitch thread, Aida 22 count cloth & cotton floss for the blackwork collar
Pattern: self drafted based on the shape from the Allori fresco
How historically accurate is it? 60%? The aida cloth is not historically accurate, nor is the cotton floss and I can't find an example of drawn work and blackwork in the same partlet.
Hours to complete: no idea. I've been working on and off on this since April.
First worn: When it gets cooler. It's too hot to wear anything but Roman at events at the moment.
Total cost: $4.95 for a spool of silk topstitch thread because I ran out after the first tie. Everything else was from the stash.
______________________________________________________________________
1 Landini, Roberta Orsini and Bruna Niccoli. Moda a Firenze 1540-1580. Firenze: Edizioni Polistampa, 2005. Page 120.